While third party risk management isn't a new concept, recent events and increasing dependence on outsourcing have brought this phenomenon to the forefront of the business environment. Disruptive events, such as the COVID-19 pandemic, have influenced practically every company and its third parties, regardless of size, geography, or sector. 
Data breaches and cyber security problems are pervasive now. In reality, a poor third party risk management program was responsible for more than half of the violations in the last two years. The majority of modern businesses rely on third parties to keep things operating properly. When they fail to deliver, the consequences can be severe.
What Is Third Party Risk Management?
The process of detecting, analyzing, and controlling these and other risks posed during the lifetime of your connections with third parties is known as third-party risk management (TPRM). This frequently begins during the procurement phase and continues until the completion of the offboarding procedure.
Given the scope and possible severity of risks associated with third parties, TPRM has swiftly grown from a 'check-the-box routine to a substantial role in firms that are serious about managing third-party risk, replete with rules, processes, and systems. 
These businesses are now taking more comprehensive steps to ensure that their third parties follow the rules and protect confidential IT information. They must also avoid unethical practices, maintain a safe and healthy working environment. Apart from that, these companies must strengthen supply chain security, effectively handle disruptions, and maintain high quality and performance levels.
Read More: What Does A Business Lawyer Do?
Third Party Risk Management Lifecycle 
Using third-party risk software, your firm may design and expand an effective Third Party Risk Management program that offers value to your bottom line. When you use purpose-built software to automate your processes, the ROI increases. So, follow these steps to complete the third party risk management process at ease;
Phase 1: Identify Vendors
TPRM necessitates thorough due diligence and careful selection of third-party providers and collaborators. You may expand on your formal risk assessment results by learning more about these firms and doing due diligence. Examine the company's finances, performance, and reputation, as well as its match with your institution.
Phase 2: Evaluate And Select
Organizations analyze RFPs and choose the vendor they wish to use throughout the assessment and selection process. This choice is based on a variety of elements that are specific to the company and its requirements.
Phase 3: Assess The Risks
Many companies use a third-party risk exchange to get pre-completed vendor risk assessments since vendor risk assessments involve time and resources. Spreadsheets and assessment automation software are two more prominent techniques to assess the risk of the vendor.
Phase 4: Mitigate The Risks
Risks can be calculated, and mitigation can begin when an evaluation is completed. First, assess the risk in light of your company's risk appetite criteria. Then, in the area of your preferred residual risk level, apply treatment and control validation. Finally, keep an eye out for any signs of elevated risk.
Phase 5: Contract And Procure
The contracting and procurement step is crucial from a third-party risk standpoint, and it is sometimes done in tandem with risk mitigation. Contracts frequently include features that aren't covered under TPRM. When analyzing vendor contracts, TPRM teams should watch for specific provisions, clauses, and conditions.
Phase 6: Keep The Records
Organizations must maintain compliance to have a good TPRM program. At scale, keeping precise records on spreadsheets is almost challenging, which is why many businesses use TPRM software. With auditable recordkeeping in place, reporting on essential components of your program and identifying opportunities for improvement becomes much easier.
Read More: What Is Deliberate Indifference? Is Deliberate Indifference Illegal?
Phase 7: Monitor
An assessment is a "once-in-a-lifetime" look at a vendor's risks; nevertheless, third-party partnerships do not end there. Continuous vendor monitoring is essential throughout the life of a third-party partnership, as is responding to new difficulties.
Phase 8: Offboard The Vendors
Many companies have created an offboarding checklist for suppliers, including an internal and external audit, to ensure that all necessary steps were done. However, in the case of a regulatory investigation or audit, the capacity to keep a thorough evidence trail of these operations is also critical.
Drawbacks Of Third Party Risk Management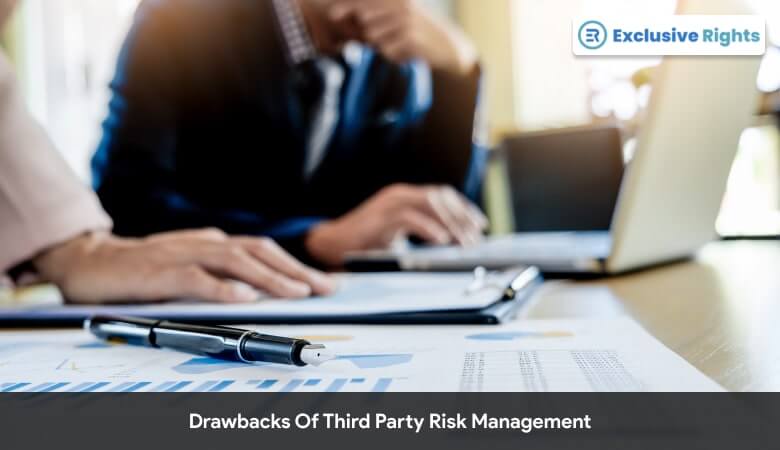 Remember that you must look after third party risk management because your risks will be originated from external shareholders of your company such as suppliers, vendors, service providers, etc. Let's look at a few of these risks;
1. Strategic Risk
Risk resulting from poor business judgments or a failure to implement sound business decisions by declared strategic objectives are essential strategic risks. Therefore, it's critical to build systems that will allow you to monitor concerns such as profitability, reputation, legislation, and even lawsuit to defend your company. 
2. Reputational Risk
Negative public opinion is a threat. Unsatisfied customers, interactions that are not compatible with policy, improper suggestions, security breaches that result in the disclosure of consumer information, and violations of laws and regulations are all examples of third-party partnerships.
3. Operational Risk
Internal processes, people, and systems that are insufficient and external events risk loss in third party risk management systems. As regulators tighten their grip on how businesses defend themselves against third-party threats, this sector is becoming a more significant aspect of your risk management strategy.
4. Transaction Risk
Problems with service or product delivery cause transaction risk. Due to technological failure, human mistakes, fraud, or limited capacity, the third party may fail to execute the transaction as expected by clients. Any of these can put a client's transaction in danger.
5. Compliance Risk
Violations of laws, rules, or regulations, as well as intentional or unintentional non-compliance with internal policies or processes or company business standards, pose a risk. This risk emerges when a third party's operations violate laws, rules, regulations, policies, or ethical standards.
6. Information Security Risk
Security breach, exploitation, dissemination, interruption, alteration, inspection, recording, or destruction of information poses a threat. It's a broad phrase that may be used for any type of data. If the third party fails to secure this information the right way, it creates a significant security breach risk for the customer.
Benefits Of Third Party Risk Management
In today's fast-paced corporate environment, third party risk management programs are critical, particularly in banking and financial institutions. Working with a specialist company to satisfy your objectives can save you money. So, let's check the numerous benefits of a third party risk management system;
1. Organizational Relationship With The Vendor BecomesTransparent
The comprehensive visibility into your business's interactions with suppliers becomes more visible with a third party risk management. Even the interconnectedness with other organizations and how that affects various sections of your organization as a whole is a crucial advantage of a risk management program. The result of controlling vendor risks at a granular level may provide a wealth of information.
2. Risk Understanding Becomes Better
One of the critical benefits of executing vendor risk management is the ability to analyze and mitigate risk. Of course, grasping the degree of the risk is the first step toward reducing it. Still, we often lose sight of how useful it is to understand the risk environment better while we're focused on the specifics of getting risk assessments. 
3: Regulatory Compliance Is Guaranteed
Because regulatory violations are known to result in costly fines and other penalties, it's natural that third-party risk management is critical to staying in compliance.
It allows us to concentrate information in one place for consistency and to comply with various regulatory agencies. End-User-Compensating-Control changes are made after a structured assessment with an SME.
The Bottom Line
We have talked about the multiple benefits of third party risk management here so that you can consider appointing one of these in your organization today. But, at the same time, your institution has to be protected against the numerous risks that might occur when a third-risk party's mitigation policies are out of sync with yours. If you have any further questions about this phenomenon, share them with us in the comment section below.
Read More: